DESIGN SERVICES
Have you outgrown your current website? Sick of wasting precious time better spent elsewhere, trying to update it?
Professional
User-Friendly
Classic
Simplifies Life
Easy to Update
Represents Brand
You're in the right place.
Throughout my career as a web designer, I've seen so many talented, passionate, and empathetic people braving the waters of entrepreneurialism, but with websites that just don't fit their brand or audience. They are in desperate need of an update, but completely overwhelmed with the tech and realize their energy is better spent elsewhere.
I love serving people who use their skills and passion to make this world a brighter place. I strive to build clean, classy websites that show all the love & care you put into your work and that are simple to use, allowing you to stay focused on the things you're passionate about.
Submit an Inquiry & Book a Call to see if I'm the right fit for your project.
Once you book your spot, you'll fill out a design questionnaire & content worksheet.
I'll get to work on the design & two rounds of revisions ensures you'll love the finished product!

Finally, I'll provide a live lesson teaching you how to use your new website before you launch!
Custom, mobile-friendly, Squarespace website design (up to 10 pages) with branded icons, buttons, color palette & font pairing.
Includes: SEO, "Coming Soon" page, Live Squarespace Lesson, 20% off first year of annual Squarespace plan.
Investment: $3000 | Timeline: Appx. 4-6 weeks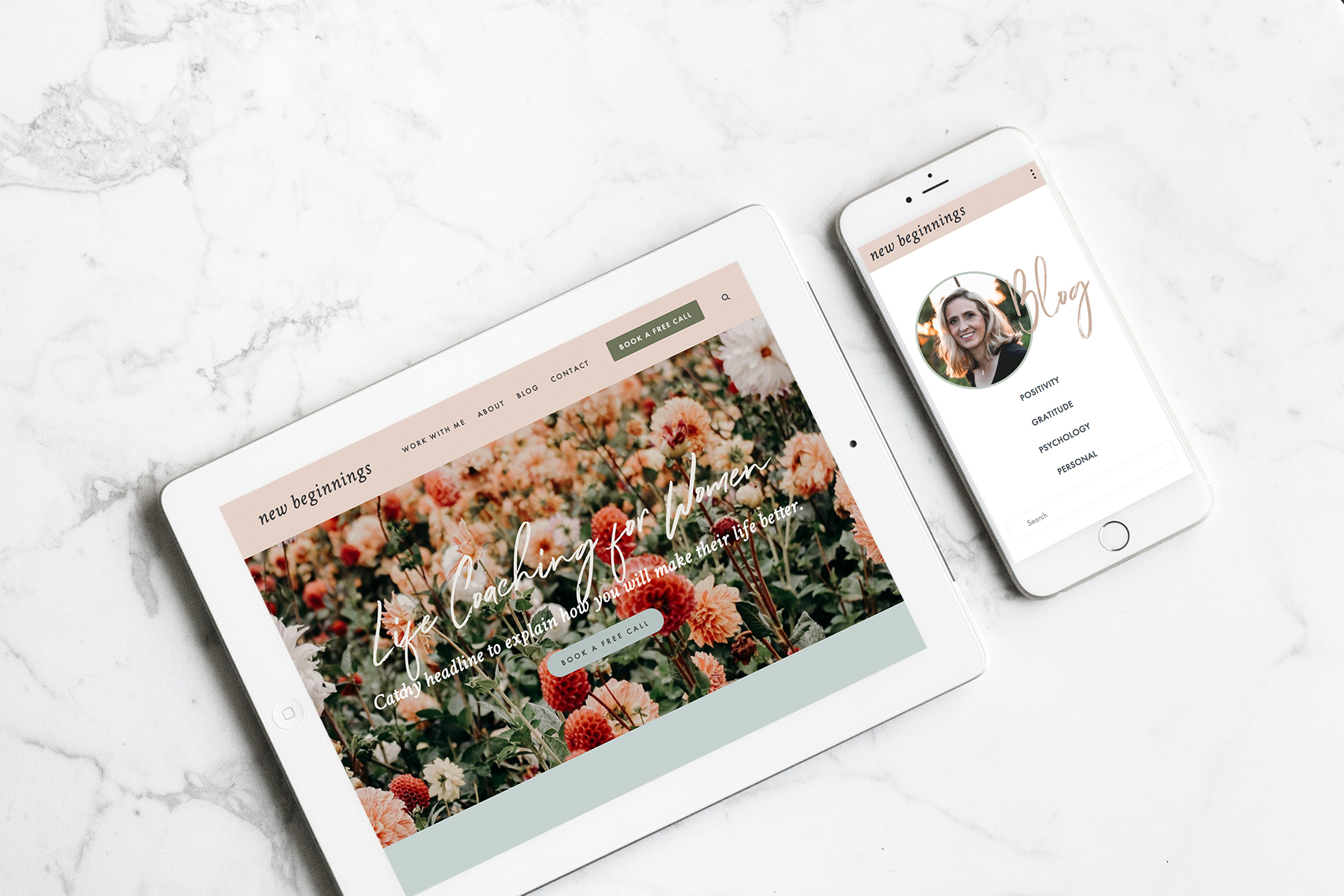 Custom Website Design Package Plus E-Commerce Capabilities.
Investment: $3500 | Timeline: Appx. 6-8 weeks
Includes: Brand Style Guide with fonts, color palette, patterns/textures/graphics, Logo Design (2 Variations), Logo Favicon Design, Email Signature, Business Card Design.
Investment: $1000 | Timeline: Appx. 2-3 weeks
1. Do you build on Wordpress, Shopify, Show-It or Wix?
No, I build all of my site designs on Squarespace.
2. What is Squarespace and is it right for me?
Squarespace is a user-friendly website building platform with a clean aesthetic. It is easy to update without coding skills and is great for small business owners, entrepreneurs and bloggers. I wouldn't recommend it if you have complex website needs (such as forums or shops with more than 200 items).
3. Other than paying your design fees, are there any other costs?
Domain registration fees are around $20/year and are paid directly to your domain registrar. You will also pay for hosting through Squarespace. You can check out their pricing plans here. If you choose an annually-paid plan, I can provide a 20% discount off the first year.
4. If I already have a domain, can I keep it?
Of Course!

5. How much time will I have to spend on this?
It depends on you…to give you a better idea here are the parts that will take some of your time.
Fill out the Design Questionnaire - Time: Depends, approximately 1 hour.

Complete Content Worksheet (which collects all of your copy & photos) - Time: Depends, approximately 1-7 hours.

Design Kick-Off Meeting - Time: Appx. 1 hour

Respond to emails during Revisions - Time: Appx. 1 hour.

Squarespace lesson and launch - Time:1.5 hours.
6. Do you only build websites for wellness-industry professionals?
I am willing to branch out to other industries if the project is the right fit. Feel free to reach out!
Ready to get a website that fits?